Flag Banners are Customer Preferred Promotional Signs
---
How can shoppers be sure they are ordering the best possible flag banner? AdvertisingBannerFlags.com offers wholesale flag banners in a wide array of configurations and sizes, but these promotional displays are consumer-tested and approved. Outdoor signs are obtainable for purchase in a variety of styles, including feather and teardrop pennants, popup A-frames, street pole flags and flagpoles. These inexpensive flag banners for advertising provide users with an exciting way to market objects and cultivate consumer interest. Most of these custom display signs are engineered for use outside, but many versions of the vinyl pennants and flag poles are useful inside too. Furthermore, the flag banners, similar to feather flags and teardrop displays, are usually custom printed to reflect company logos or text. These flags for advertising can assist with tasks, like increasing brand recognition, promoting inadequate-time sales or sponsoring events! Flag banners often feature bright colors and graphics, so companies are capable to successfully gain more exposure to goods and services. These business signs are lightweight and are easily transported. In addition, the flag banners generally come with several base options to assure stability in any location. In many cases, our feather or tear drop banners and flagpoles come equipped with convenient carrying bags. Add flags for advertising to your organization to draw in more customers from greater distances. The online catalog incorporates pennants with custom or stock imagery for every type of business, institution or establishment. Order online now!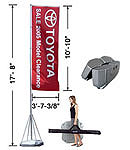 Vinyl pennants and flagpoles are primarily engineered for use in outdoor settings; however, our company provides a vast selection that has solutions for indoor affairs. Trade shows and conventions often take advantage of prevalent banner poles. Customized signage also allows for targeted or versatile marketing capabilities. Additionally, they are set up outside at events like fairs, concerts and sports tournaments. These flags are designed to withstand typical weather, such as rain, wind and snow. While gusting winds frequently damage some outdoor fixtures, our flags for advertising are rugged. Some models even pivot with the wind to avoid falling over. Unlike basic flag poles, users do not have to worry about visibility. During times of restricted wind, customary stands allow pennants to drape around the center supports. The vinyl banners become entangled, making them difficult to read. With this banner, any personal or universal message stays open, so your brilliantly colored graphics will be easily seen in any weather conditions.
What are some examples of the most popular promotional banners and sign poles?
Feather flags are very popular options because they are simple yet highly useful solutions. These designs are very common among the display circuit, as they are tall and very sturdy. These offerings each include a ground screw and water bag for stability in moderately windy environments. Set them up on hard or soft surfaces with ease!
Message pennants have pre-printed stock text and are versatile enough for use at most businesses. Let passersby know that your organization is open or that a special sale is happening. There is a large assortment of different universal messages to choose from, so you can be sure you will find the options that suit your needs.
Street pole flags are innovative brackets and vinyl flags that fasten to light poles. Many times, colleges and universities present their catchline or label certain locations. Build a unique demonstration with professional promotions at a campus or museum. The possibilities are endless!
Also featured on the site are 13 foot flagpoles with fillable plastic bases. These are the high-flying structures set up at car dealerships, tradeshow events and conventions. Designs like these provide a great deal of impact without all the hassle. These merchandise are easily transported with the handy carrying cases. Keep promotions stable in up to 31 mph of wind while keeping your messages visible!
The largest of the obtainable flagpoles measures a little over 17 feet tall and includes a folding polymer base. The bases can be filled with sand or water to stay upright during fair to moderate weather conditions. Two carrying bags come with each of these stands, which make relocating them a snap. These promotional flag poles offer the highest impact for the lowest cost. Begin a fresh marketing campaign today and save when you purchase in bulk!