Street Pole Banner Rods for Block Flags for Streetside Advertising
---
Block Flag Hardware & Banner Rods for Vinyl Street Pole Advertising
Where are street pole banner rods for block flags most commonly used? Vinyl wing advertisers can typically be spotted street side on city avenues and downtown boulevards, as well as in shopping mall and commercial parking lots. These street pole banner rods for block flags are customizable for outdoor use at promotional events such as fairs, annual sales events, and at concerts and festivals. Civic and government agencies small and large use bracket-mounted signage for all manner of promotion or advertisement and require durable hardware for quick and easy sign mounting. These street pole banner rods for block flags, also known as light post advertising sign kits, are sold at this website where buyers also have access to full sets with custom printing or stock graphics, as custom replacement banners without mounting accessories, or as simply as the hardware kits alone that are needed to install existing graphics as depicted in this category. Best of all, this is our economy line, so expect to spend less - while continuing to get more in terms of quality and durability.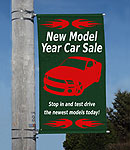 What kind of vinyl feather signs does this hardware support?
Street pole banners rods for block flags are meant for use with vertical hanging signs crafted from solution-dyed acrylic fibers that resist fading in sunlight.
Custom-printed vinyl wings feature water-repellent designs for long-lasting signage displays, even in inclement weather.
Pole and post banner rod and flag sets are stain and mildew-resistant to keep promotional and informative pennants from deteriorating or looking unprofessional.
Two-ply signs are sturdier than single-ply options, and all our versions feature hemmed edges to prevent fraying.
Both digital and screen printed street post sign displays are engineered specifically for outdoor environments and inclement, windy weather.
Only the most durable flag sign hardware, like banner rod systems, is offered here to complement quality custom printed vinyl wings. Customers can find all the finest outdoor signage like popup stands, feather displays, teardrop and blade flagpole systems, as well as these lamppost kits on our jam-packed e-commerce site. These street pole systems combined help businesses, schools and communities get messages to locals, visitors and prospective customers. The lamppost displays can be custom printed digitally in full color or using vinyl in either one or two color styles. The street pole flags, commonly referred to as pennants, garner attention from a distance, as they are typically mounted high on the mounting fixtures. Communities frequently mount the outdoor signage to communicate holiday messages or inform residents of upcoming town events. A business can even set up a banner flag to publicize sales, clearances, promotional deals and more. These displays are engineered to help store owners and community experts save both time and money, so go online today to find the right sized graphics for your institution.
When purchasing hardware to complement advertising flag banners, note that the signs themselves are offered in the following sizes: 24" x 48" 30" x 60" 30" x 84" and 36" x 60". Each size is equipped with rod pocket to accommodate the popular styles of poles and brackets, although, hardware sets can also be purchased alongside signage.
Each of these pennants for lampposts boasts personalized imprinting. The outdoor signage can be purchased in an array of sizes. For those shopping for hardware pole systems along with the banners themselves, there are a few things to keep in mind in terms of the signs themselves; images must not be too small in relation to the larger system; images and messages should be bold and eye catching and artwork must remain inside the imprint area (1/2" bleed); vector shapes must be merged. These pennant kits are the proper choice if your designs include any type of gradients, detailed artwork, true to life images or numerous color overlays. Select the sturdiest hardware to support it and enjoy years of vibrantly colored road-side promotionals with traditional imprinting. Digital versions may better suit your needs if your organization requires more elaborate designs. In either case, support will be necessary and so always choose quality brackets, like the ones pictured here, that hold up to wind, weather, and time.