Custom Feather Flags for Advertising with Customized Printing & Color Graphics
---
Feather Flags with Custom Digital & SilkScreen Printing in Every Base Style
Is your company searching for custom feather flags to attract attention to special events, new products, sales, or increase brand recognition? AdvertisingBannerFlags.com offers a huge selection of blade advertising options. These custom feather flags, also called banner displays, are perfect for drawing attention to indoor or outdoor promotions. What separates these customized feather flutter signs from flagpole signage is that they are offered with a wide variety of mounting and base options including car foot, cross, water, and ground spike styles. Our economical custom feather flags for sale are a great way for businesses to attract and target consumers with logo displays, marketing messaging, slogans, or merchandising graphics. The large dimensions of these outdoor-rated commercial banners ensure that passing pedestrians and motorists notice the advertisements immediately. Custom feather flags are designed to showcase messaging even without wind! These high visibility advertising displays have a metal rod that runs the length of the customized printed blade stands, ensuring full message visibility at all times. Full color feather banners, on the other hand, require wind to see the full silk screen or digitally printed graphic. A combination of price point and location will determine which selection you make.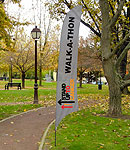 What printing processes are available for these customized blade advertising banners?
Custom feather flags can be ordered with full color digital graphics, full color silkscreen graphics, or silkscreened spot imaging in a full selection of shades. Depending on the quantity needed and type of printing and message desired, these single-sided banners offer varying degrees of reverse-image visibility and color saturation.
Silkscreened banners allow 1, 2 & 3 spot colors to be imprinted with ease. The variety of options allows for the creation of unique promotions with bold blocks of color. Heat-transfer imprints can accommodate anything from simple text to company brand logos. A minimum of 10 units minimum must be ordered for any of the feather flags with silkscreen graphics.
Full color silkscreened teardrop signs offer the same high quality as spot colors, but allow for photographic quality images to be reproduces. A minimum of 10 units minimum must be ordered for.
Economical full color digital printed blade advertising flags offer high quality detailed graphics reproduction. The advantage of buying these types of displays is that there is no minimum requirement per order. This type of short-run customized message flag is ideal for smaller businesses, specialized merchandising, and branding.
Although printed on only one side, these custom advertising banners offer varying degrees of visibility on the reverse. The silkscreen printing process provides deeper ink penetration, creating more image depth.
Both printing preferences were developed for long-lasting graphics, so users do not have to worry about excessive fading or fraying in standard outdoor conditions.
Each style comes equipped with the hardware necessary for proper demonstration. In fact, the teardrop banners provide various base options to enable their use on a variety of hard and soft surfaces. Many businesses position the signs near entryways and storefronts to draw more customers inside. Every flag sign is designed to be portable and lightweight, which makes for effortless installation and relocation. At AdvertisingBannerFlags.com, shoppers have access to the widest selection of quality merchandising signs with many printing options.
What types of bases are available for each wind flag type?
Swooper banners with ground spikes are designed for outdoor purposes and features a rugged metal construction. From soft grassy turf to sandy beaches, the spikes will keep displays upright during fair to moderate weather and wind.
Advertising banners can also feature a cross frame and water bag combination. This option is suitable for both interior and exterior environments. For indoor applications, the cross base may be employed alone. For busier areas and outdoor settings, the water base will prevent the advertising displays from tipping over and being damaged. Although they may be used outdoors, these company demonstration tools should be brought inside during high winds & inclement weather.
Teardrop signage with a car foot base allow for the wheel of a car or other automobile to be driven onto its pronged design. With 1,000-plus lbs. on the base, the outdoor feather banner displays will never topple over! Though the car foot is commonly used for outdoor dealership lots, showroom floors and indoor auctions are ideal applications as well.
Customized flutter signs with fillable water bases provide maximum stability during use. The base is fabricated from a strong polymer to hold either water or sand. Each blade style banner has been tested for outdoor environments and performs well. When set up in cold conditions outdoors, it is recommended that the base be filled with salt in addition to the water in order to prevent freezing.
Promotional teardrop banners and wind blades are most commonly used on the exterior of buildings to captivate passersby. Bowhead signs let potential clients know that your particular location is open to the public or offers special services. Advertising blades are made from strong vinyl materials to last, and the vibrant colors are certain to turn heads in any setting. This signage is ideal for brand and event promotion because they can be moved and repositioned with ease.
Outdoor festivals, live performances, street dances, and fairs that take place in parks frequently benefit from signs with flagpoles, as they show attendees the way to certain tents, booths, or other facilities. Dirt tracks for Motocross events or sprint car races are also locations where the poles and signs are commonly used. For example, sponsors often line the length of a berm to keep racers on course while simultaneously protecting the fans and enthusiasts. Other applications include oceanfront restaurants and snack bars that face the water rather than the street. Seaside concerts and athletic tournaments are other events in which this style of signage is used. Here, they provide information to event-goers and guests. Whether you need to dress up a small business' storefront or host a large-scale expo, AdvertisingBannerFlags.com offers solutions that accommodate all of your marketing needs.